In this section you will find a list of Accommodation in Downtown, Buenos Aires.
Downtown (Centro) – Buenos Aires Neighbourhoods – Information and lodging
Buenos Aires Downtown is an area integrated by 3 nieghbouhoods: Montserrat, San Nicolás & Balvanera.
• Montserrat: named after Our Lady of Montserrates in Spain, was the aristocratic area of Buenos Aires until an epidemic of yellow fever drove the inhabitants to higher ground farther from the mosquito infested banks of the Riachuelo ("ugly little river" in Spanish). The elegant homes the rich left behind became known as "conventillos" as the mansions were partitioned off into one-room dwellings where wave after wave of Spanish and Italian immigrants lived in squalor. The area of Montserrat / San Telmo is rich in historical monuments. The most important are found in the Plaza de Mayo, named in honor of Argentina's Independence Day, May 25, 1810.
The President works in the Casa Rosada (the Pink House), also known as Government House (the official Presidential living quarters are in the suburb of Olivos). Like the Cabildo (Argentina's Independence Hall) and the Cathedral, the Casa Rosada was rebuilt many times .. Nothing remains of the original Royal Fort. The present structure was finished in 1896 but the pink color goes back at least to the time of President Sarmiento (legend says that whitewash was mixed with animal blood from the slaughter houses to obtain the building's rosy hue).
The Pyramid in the center of the Plaza commemorates the Republic's first year of liberty and for a long time was the only monument to an independent nation in South America. It was moved to the center of the Plaza in 1912.
The Mothers of Plaza de Mayo still march around the Pyramid on Thursdays, in memory of their children who vanished during Argentina's Dirty War. A church has formed part of the plaza since 1593. Since then six more churches have replaced the first one. The present neo-classical National Cathedral was modeled after the Palais des Bourbons in Paris. In 1880, the body of the hero of Argentina's independence, General San Martín, was brought back from France-where he died in exile- and now rests inside the cathedral.
Argentine colonists gathered under umbrellas on a rainy morning in May, 1810, in front of the Cabildo to declare their independence, not from Spain but from France after its invasion of Spain. On July 9, 1816, the Congress of Tucumán declared Argentina's independence from Spain, thus giving Argentina two independence days. Most of the Cabildo's vice royal structure has been demolished, but the interior patio can evoke memories o f Spanish rule. Montserrat is rich in national historical monuments: the Montserrat Church, Nuestra Señora del Rosario Basilica, the Santo Domingo Church as well as the Cabildo, Catedral Nacional, and Casa Rosada. The British tried twice to conquer Buenos Aires in 1806 and 1807 but the spirited citizens defended themselves by pouring boiling oil on the soldiers (the street La Defensa gets its name from their courageous defense). Twice defeated, the British left their regimental colors. You can see them in the Santo Domingo Church. The block between Alsina, Bolívar, Moreno and Perú is known as "La Manzana de las Luces" (block of lights) because from colonial times many Argentine intellectuals were educated there. The famous Colegio Nacional Buenos Aires (a public secondary school as elite as Boston Latin) was designed by the French architect Norbert Maillart and welcomed Albert Einstein in 1926. A Jesuit school existed on the site in 1675.
• Balvanera
The neighborhood of Balvanera is encompassed by the streets and avenues Córdoba, Díaz Vélez, Gallo, Sánchez de Bustamante, Loria, Independencia, Entre Ríos and Callao. Balvanera is famous for its many wholesale and retail businesses along the avenues Corrientes, Pueyrredón and the intersecting streets of Azcuénaga, Pasteur and Junín. Along Belgrano Avenue you will find many stores selling all different styles of furniture, old, new and collectible at very reasonable prices.
Plaza Miserere, also known as Plaza Once, contains the mausoleum of Argentina's first president, Rivadavia. Because Plaza Once is the terminus for many buses and for the A subway line as well as the Sarmiento Railroad, it is a very heavily trafficked area. One beau tiful building is the historical "Aguas Argentinas", well worth a photograph. It is located in the block of streets Córdoba, Río Bamba, Viamonte and Ayacucho.
On the northern edge are the important Buenos Aires universities: Ciencias Económicas on Córdoba; the private Catholic Universidad del Salvador on Callao and the Philosophy and Literature University on Independencia.
Other sights are Our Lady of Balvanera Church, the church that gives the neighborhood its name, and the Abasto Shopping Center.
• San Nicolás
Better known as "el centro," is encompassed by the avenues Callao, Rivadavia, Eduardo Madero and Córdoba.
Stylistically, it is a mixed bag with modern office buildings and old mansions co-existing side by side. The Obelisco is to Buenos Aires what the Eiffel Tower is to Paris-an icon of the city. Sixty-seven meters high, it commemorates the fourth centennial of the foundation of Buenos Aires. The "City Porteña" (citizens of Buenos Aires are called Porteños, people of the port) is the financial the hub for banking, exchange houses and the stock market: Banco Central of the Argentine Republic, San Martín 275; Museo Mitre, San Martín, 336; Stock Market, 25 de Mayo, 359 La Plaza de la República is a reference point for tourists and residents where the 9 de Julio Avenue, Diagonal Norte (Av. Roque Saenz Peña) and Corrientes come together.
The Congress building was modeled on the Capitol Building in Washington, DC, and completed in 1906. The Teatro Colón, a seven story building, is a world class theater for opera, ballet and concerts at Libertad 621.
+ We recommend you read this article with more information and pictures of Buenos Aires Downtown.
+ Accommodation in Downtown, Buenos Aires: Hostels
> Neighborhood: Downtown
At the Center 5 blocks from Recoleta and the Obelisk. Meet the best places in Buenos Aires and make friends around the world, tourists & students.
+ Accommodation in Downtown: University Residences
> Neighborhood: Downtown
Exclusive for women (reduced number of students), designed to be more than just a residence: the importance of having your place of rest and study.
> Neighborhood: Downtown
Not a hostel nor a university residence. Rooms are shared apartments only for university students, postgraduate, courses, young professionals.
> Neighbourhood: Downtown
Single and double rooms all with private bathroom and equipped with TV, sommier, wardrobe, table & chair. A few steps from Psychology University.
> Neighborhood: Monserrat
San Marcos Residence is close to the most important universities of Buenos Aires, is a university dorm based on your development & growth.
> Neighborhood: Downtown
In the traditional area of Balvanera, near universities, hospitals & police. Next to three avenues. With access to different bus lines and trains.
> Neighborhood: Downtown
Rooms with sunny balconies, cable TV, private fridge and Internet access & WiFi in room, dining room with TV, DVD, laundry, daily maid service.
> Neighborhood: Downtown
An exclusive residence of 15 places for students from Argentina & abroad. With design and style. Strategic location near many universities.
> Neibourhood: Downtown
A safe environment run by the owners with single and double rooms, all furnished with or without private bathroom. Great location in Downtown.
> Neighbourhood: Downtown
Just 200 mts from Obelisco & 100mts from Florida st so you can reach walking, by bus or subway to the major universities & spanish schools.
> Neighborhood: Downtown
Students Residence with single or double room, a spacious house whose exquisite architecture welcomes you into its pleasant ambiance.
> Neighborhood: Congreso
My House University Residence in Congreso, in the middle of commercial and cultural district. Single, double, triple and 4 guests bedrooms.
> Neighborhood: Downtown
For local and foreign female students was designed so you can feel like in your own house with the services of a hotel. Close to a lot of universities.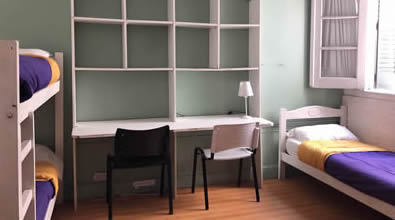 > Neighborhood: Monserrat
The amenities of a first class hotel exclusively for students. Wi-Fi coverage throughout the whole residence and maid service every day. In Monserrat.
> NBH: Downtown
The Residence Central offers single double, triple and quadruple rooms, all equipped with private bathroom, cable and air conditioner. Great location.
> Neighborhood: Congreso
For female university students. It has 8 individual & double bedrooms with an LCD cable TV set, safe box, individual closets, street view, large desk & chair.
> Neighborhood: Downtown
Single, double, triple and rooms for four or more students. Easy access to main spots of Buenos Aires and many means of transportation.
> Neighborhood: Downtown
Ideal for students and young professionals looking for a place where they can study, have a pleasant rest and with a very simple access to universities.
> Neighborhood: Downtown
Student housing for women in Buenos Aires. Warmth of home with the service, luxury & comfort of an upscale hotel. Is new & only in its category.
> Neighborhood: Downtown
It offers bedrooms for 2, 3 or 4 people with shared bathrooms, air-conditioning, WI-FI, refrigerator and cable TV. Easy access to universities.
> Neighborhood: Downtown
A newly renovated house with 14 bedrooms (all with private bathroom) in the heart of Buenos Aires, close to all services and main universities.
+ Accommodation in Downtown: Apartments
> NOT AVAILABLE
– Neighbourhood: Downtown
– Rooms: 1
– Guests: 2 persons
– Rate: ask